How much does it cost to rent portable toilets for a wedding?
If you are planning an outdoor wedding, you will need to know - how much does it cost to rent portable toilets for a wedding? this informative article will help you calculate how many units you will need. Once you have an idea of the number of toilets that you need to hire, it is important to compare portable toilets to Luxury Wedding toilets.
Ordering Luxury Toilets
Similar to finding out how many portable toilet units you need, the total cost is also dependent on a few variable factors:
How many units will you require?
What type of units would you like to hire?
Optional extras included in the hire package
How long will you be hiring the units for?
The location and topography of the venue
After you've determined how many units you'll need to hire, you can start asking suppliers for price quotes. We'd always recommend getting multiple quotes so you can make a comparison. However, don't always opt for the cheapest quote; carefully consider what's included with each quote and choose the best one which matches your requirements.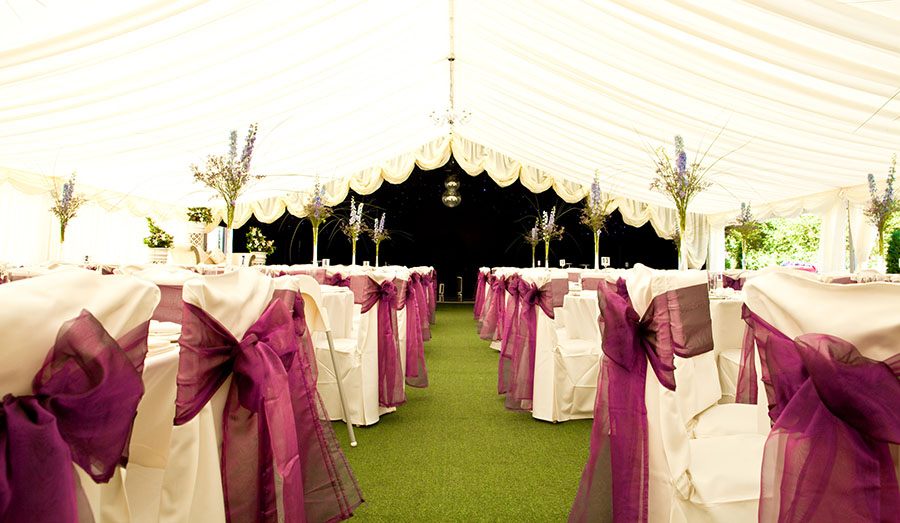 Portable toilets have come a long way since the typical blue plastic cubicles; there are a range of portable toilet trailers available, even units which you could customise to match the theme of your wedding.
Wedding Toilet Supplier
Each supplier will have different options which you can choose from, depending on your budget, requirements and personal preference. The price will likely differ between suppliers and the features on offer. They may also come with a range of optional extras such as premium luxury toiletries which will increase the overall cost of your hire.
Posh Loos Sussex offer the best price for luxury toilet hire for 30 miles surrounding the Worthing area. This makes us your first choice for wedding toilet hire in West Sussex, East Sussex, Kent, Hampshire and Brighton.
As with all hire and rental, the duration of the hire will also be one of the most influential factors in determining the cost. Some suppliers may offer rental rates depending on the hour, or they may offer a fixed day rate regardless of the time. This may be preferable if you need to hire the unit for the entire day as opposed to a few hours for the evening reception.
Another important factor which could affect the total cost of the rental is the location and the ground condition on site; portable toilet trailers require a stable, flat surface for optimal operation, so you need to carefully consider where you plan to place the units. The location of your site and the travel distance from the supplier will also contribute to the cost of the total hire.
There are several reasons why you may want to hire a luxury toilet trailer instead of the typical single blue cubicles, the most important of which is the impression you wish to leave for your guests.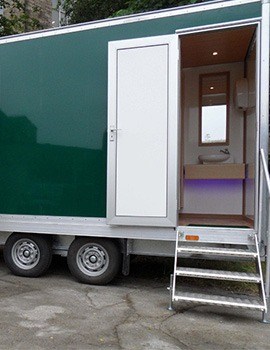 Imagine your dream wedding; you've found the perfect rustic venue and carefully arranged each decoration, only to have a row of blue plastic cubicles sit in a dark corner of the field. Let's admit it, it's not the best look.

If you are planning to have an outdoor wedding, you may find yourself without certain modern conveniences you'd expect, including toilets. If you've never had to organise mobile toilet hire, then you may find yourself spoilt with a number of choices.

A luxury toilet trailer defies all the typical stereotypes of mobile toilet; not only are they sleek and stylish on the outside, you'd be surprised at how spacious and elegant they are on the inside.

With a range of contemporary features such as ambience lighting, ceramic sinks and chrome taps, your guests will feel like they are visiting a top-of-the-range hotel rather than a trailer in the middle of the field. Depending on the make and model, you may also find tiled walls, laminate flooring and wooden cabinets, all adding to the luxurious feel of the trailer.
The trailer of the unit can be further decorated with drapes and ribbons to conceal the frame of the trailer and match with the theme of your wedding. If required, you can also request for optional extras such as flowers, aromatic scents and luxurious toiletries to further improve guest experience.
Although luxury trailers are likely to come with a higher price tag, it's definitely recommended if you want to make a lasting impression on your guests.